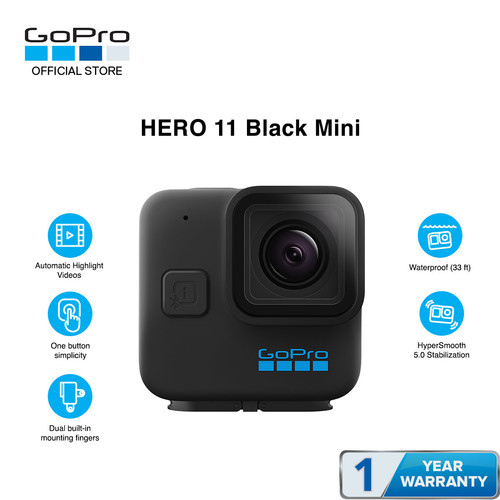 GoPro HERO11 Mini - Black
5.000.000
Tersedia: 5 pcs
Deskripsi Produk
Brand : GoPro Warna : Black Sensor : 1/1.9" CMOS 24.7 Megapixel Layar : 0.55" Status Only Display Resolusi Video : 5.3K: 8:7 (5312x4648); 5.3K: 4:3 (5312x3984); 5.3K: 16:9 (5312x2988) Konektivitas : Uploads Automatically to the Cloud + Get a Highlight Video Automatically with GoPro Subscription | Wi-Fi + Bluetooth
Stabilisasi Video : HyperSmooth 5.0 Slow Motion : Up to 8x Format File Video : MP4 via H.265/HEVC Penyimpanan Memori : Single Slot: microSD/microSDHC (UHS-III) [256 GB Maximum / U3/V30 or Faster Recommended] Konektor : USB-C
Fitur : System Processor GP2
Photo HERO11 Black Mini captures video only
Time Lapse Includes TimeWarp, Star Trails, Light Painting and more.
Audio Features 3-mics | RAW Audio Capture (.wav Format)
Hardware Features Built-In Mounting with 2 sets of Folding Fingers
Voice Control 14 Commands 11 Languages with 6 accents
Key Accessories Volta, The Remote, Quik App, and over 40 other accessories
Baterai : Embedded 1500mAh w/Enduro Battery Technology Waterproof : 10 m Dimensi : 52.4 W x 51.2 H x 38 D (mm) Berat : 133g
In The Box: HERO11 Black Mini Camera Curved Adhesive Mount Mounting Buckle USB-C Cable Thumb Screw Camera Case
Smaller. Simpler. Full performance. Dapatkan performa video HERO11 Black yang luar biasa dalam desain yang lebih kecil, ringan, dan sederhana. Ukuran HERO11 Black Mini yang lebih kecil membuatnya lebih nyaman untuk dipakai saat merekam rekaman point-of-view, dan dual mounting fingers meningkatkan opsi pemasangan di badan dan helm Anda. Cangkang luar yang tangguh membawa daya tahan GoPro yang legendaris ke tingkat yang sama sekali baru. Menampilkan sensor gambar yang lebih besar yang memungkinkan Anda berbagi bidikan vertikal ke media sosial dengan mudah, dan Anda akan mendapatkan video highlight luar biasa yang dikirim ke ponsel Anda secara otomatis.