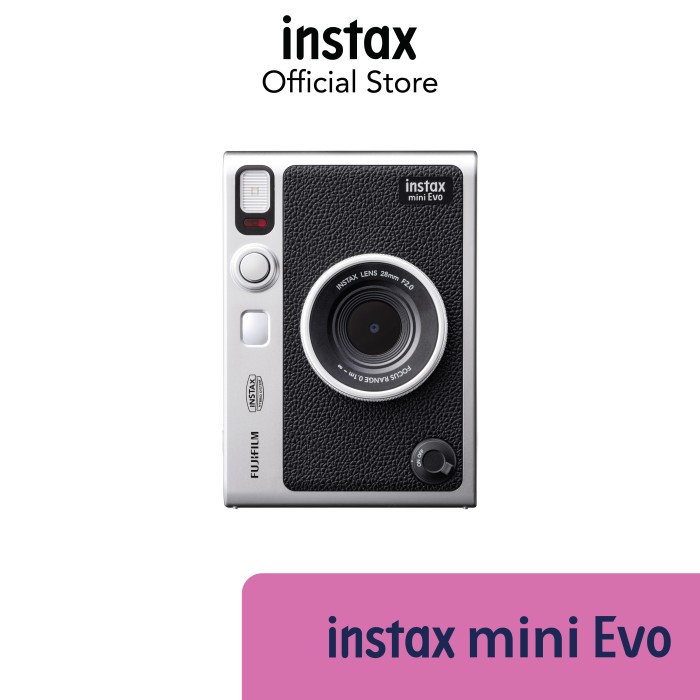 FUJIFILM Instax Mini Evo Instant Hybrid Camera - Hitam (USB C)
2.499.000
Tersedia: 10 pcs
Deskripsi Produk
The instax mini Evo brings you 100 ways to express your creativity.
with 10 lens effects and 10 film effects = 100 ways of expression
Some only see the ordinary. Not you. And neither does the new instax mini Evo hybrid camera and smartphone printer. Instead, this smart analog-style shooter brings what you love to life. Every angle, in all the colours, with all the creative options.
Experiment with the vividness, go retro, add softness to the focus, lose the colour. Adjust the exposure, alter the white balance, turn the flash on or off, even select macro mode when the mood calls for a close-up. It's your shot, and there are 100 ways to capture it.
Key Feature: • 10x lens effects • 10x film effects • Built-in selfie mirror so you're perfectly framed • Dual shutter buttons – portrait and landscape • mini Evo app for storing printed images • Control mini Evo with your smartphone • Print from your smartphone via Bluetooth • Macro mode for close-ups • Self-timer • Charging port • Micro SD card slot • Analog-style, razor-sharp design and features • High-quality credit card-sized prints
Right now, Either Mini EVO Black and Brown are using USB C port Power Supply, and Mini Evo old Black ( which is not available anymore ) still using MicroUSB port charging.